Ten Year Career: Reimagine business, design your life, fast track your freedom
Published July 2022 by Hachette with foreword by Derek Sivers.
Buy on Amazon in paperback, Kindle and audiobook.
---
About Ten Year Career:
Reimagine your future, adjust your efforts, jump into action and work for just ten more years before doing what the hell you want!
Building a business can be confusing. Entrepreneurs aren't sure whether to keep control or delegate and automate, say yes or say no, work all hours or prioritise work-life balance. They take advice from all directions and wind up feeling overwhelmed and overworked without a finish line in sight.
The TEN YEAR CAREER turns that premise upside down and argues that it doesn't have to be that way. If you have intention, focus, a willingness to question received truths and the vision to think big, you can emulate the world's most successful entrepreneurs and retire in ten years, no matter where you are in your career today.
You'll learn:
How to define success your way, not their way.
How to achieve far more in a shorter space of time.
How to run your business without it running you.
The four-step framework by which to complete your Ten Year Career.
You can achieve much more than you do now, in much less time than you thought, to reach financial freedom earlier than you imagined. That freedom, in turn, leads to the freedom to choose how you spend your days. The freedom to do whatever you want, with whomever you want, when you want to do it. The freedom to live life on your own terms.
---
Endorsements for Ten Year Career:
New entrepreneurs, this is the guide you need to start now. Its timeless advice is from recent experience. Every future millionaire needs this wise perspective.
~ Derek Sivers, entrepreneur and author
Ten Year Career has the same 'shake-up' potential as The 4-Hour Work Week did, shifting our thinking to, 'Oh, I could get this done faster and better if I worked in these ways.' Entrepreneurs often fall in the gap between the promise of freedom (I'll make money in my sleep) and the reality (I'm scrapping to keep my business alive). In Ten Year Career, Jodie moves us smartly and quickly toward the reality of freedom by reminding us what tools, tactics and habits really matter.
~ Ben Keene, founder of Rebel Book Club
A powerful and valuable book to live a life of greater freedom and impact.
~ Robin Sharma, #1 worldwide bestselling author of The 5AM Club and The Everyday Hero Manifesto
In a fast moving world, it's not only possible to achieve a lot in a few years, it's safer! Jodie has created a plan for you to have a fast, fun and fulfilling career that achieves more in a decade than most do in a lifetime.
~ Daniel Priestley, entrepreneur and bestselling author of Oversubscribed
Jodie is one of my all-time favourite writers and thinkers. Her clear, refreshing take on business and life is always a joy to read and her infectious curiosity and positive approach to life comes across beautifully in the written word.
~ Sophie Devonshire, CEO of The Marketing Society and author of Superfast
A lot of authors rely on second-hand research or academic studies, but Jodie's work comes straight from the school of hard knocks. Jodie offers real life, battle-tested strategies for building a business and a life.
~ John Warrilow, founder of Value Builder and host of the Built to Sell podcast
"This book demystifies the entrepreneur journey for ambitious business owners in need of their north star. Jodie has proven a ten year career is possible and is inviting you to access the benefits."
~ Joe Valley, bestselling author of The EXITpreneur's Playbook and co-owner of Quiet Light Brokerage, Inc.
Buy on Amazon in paperback, Kindle and audiobook.
---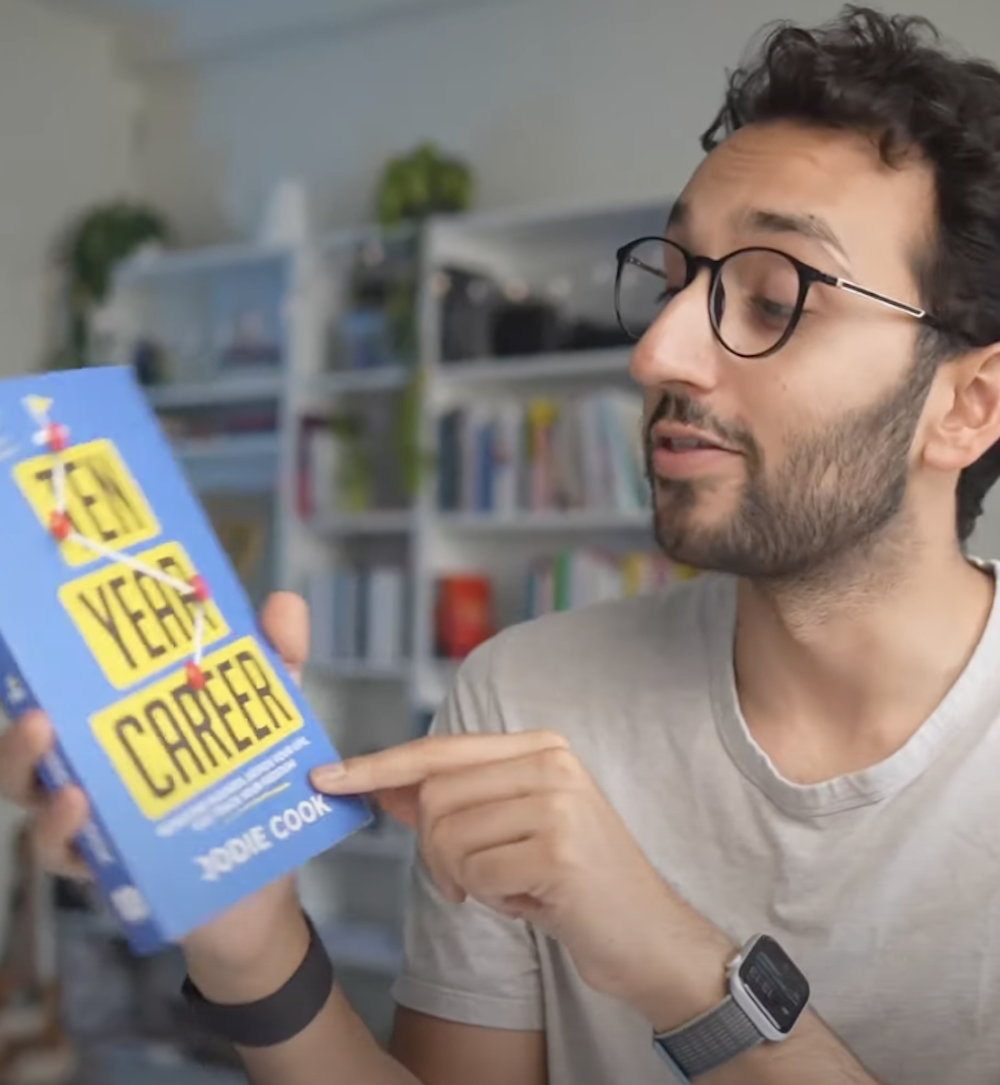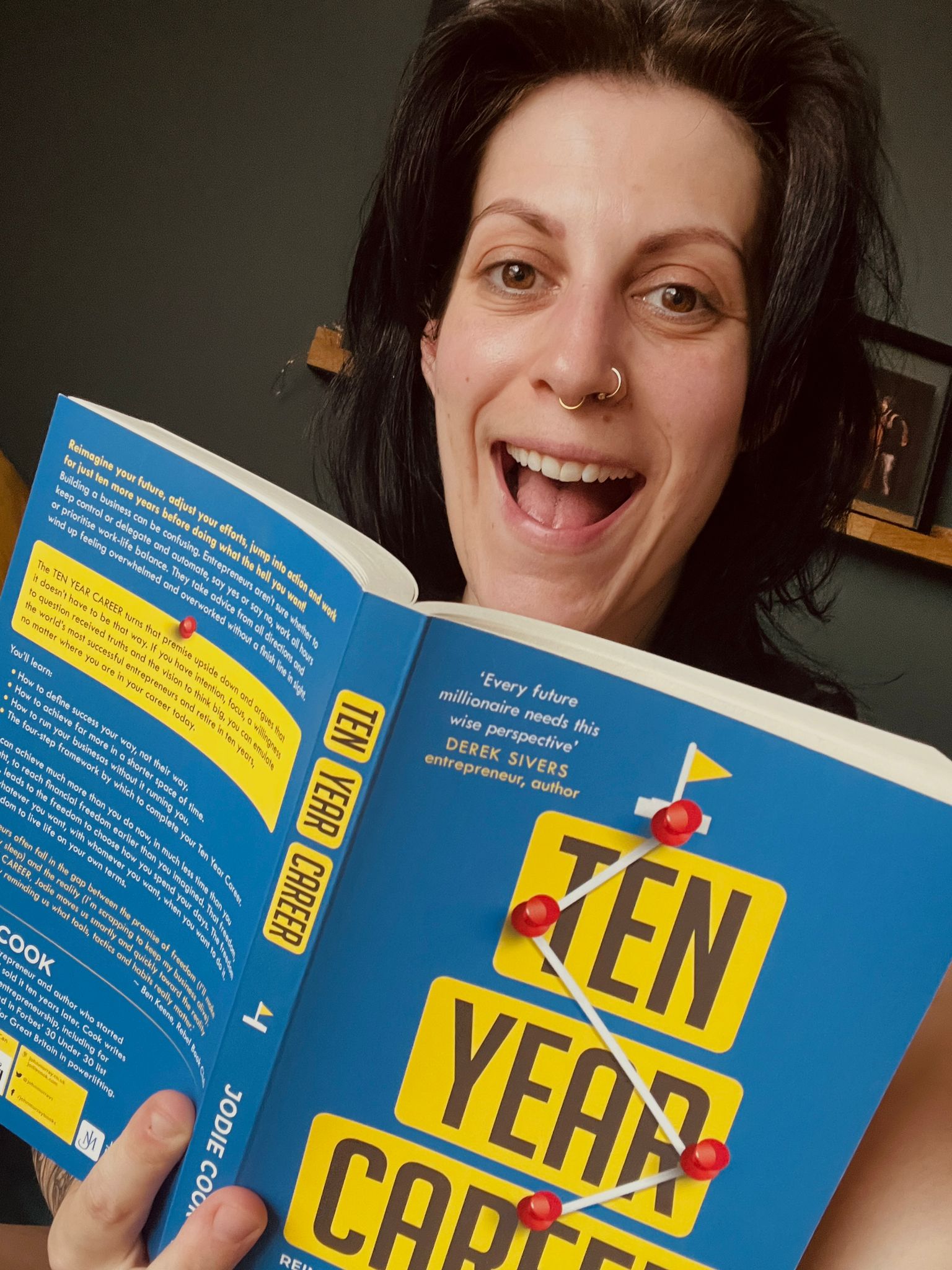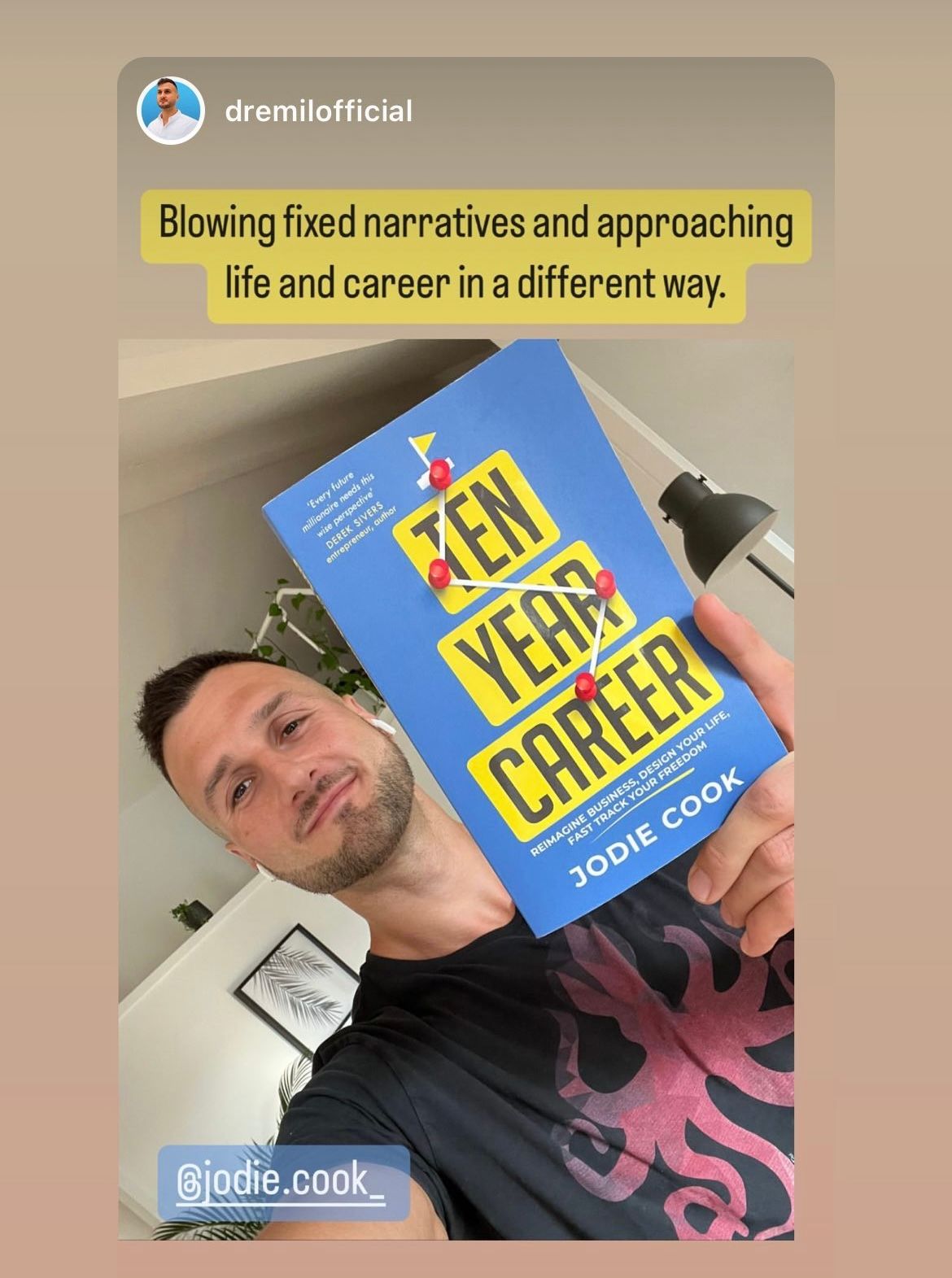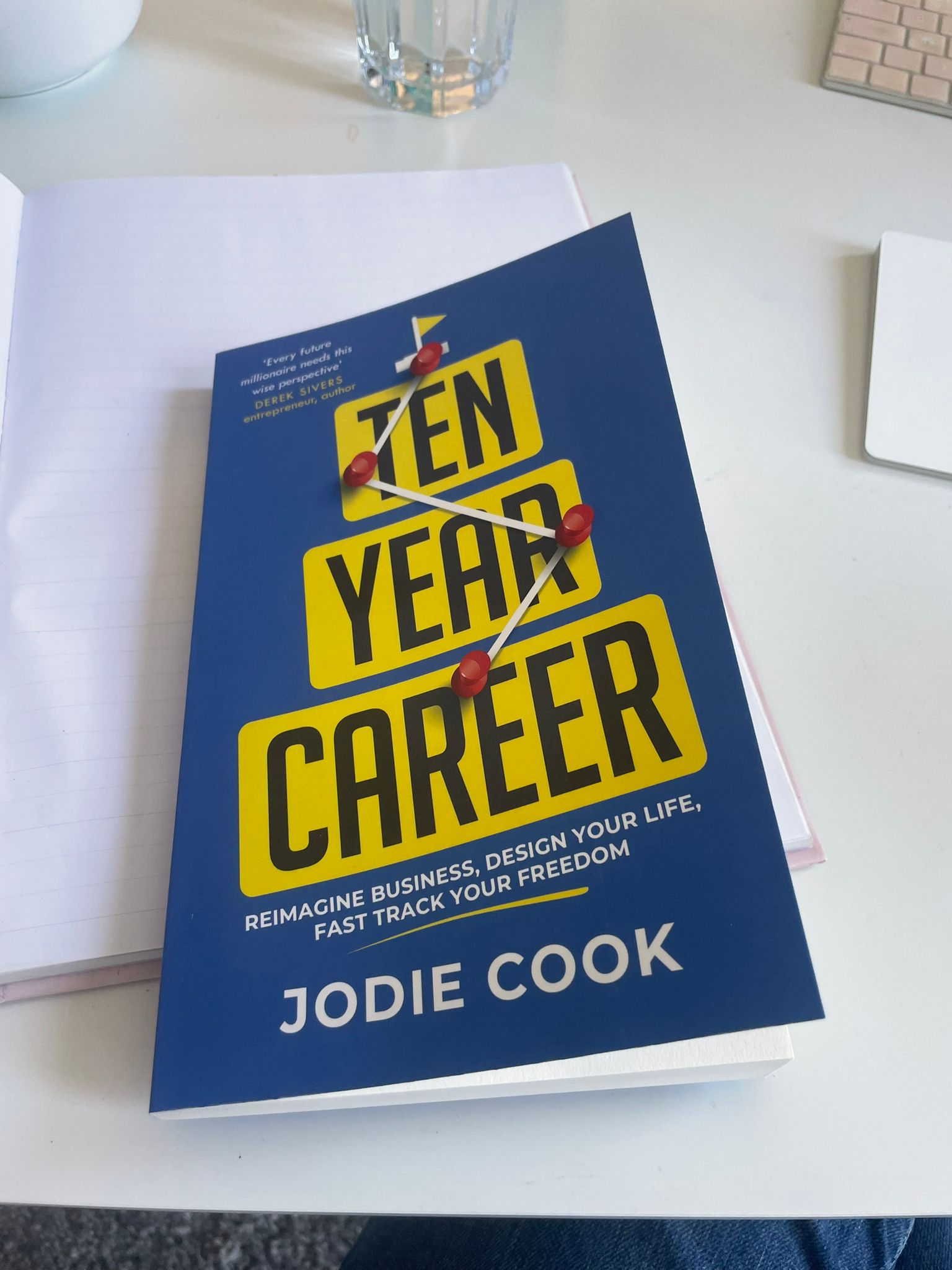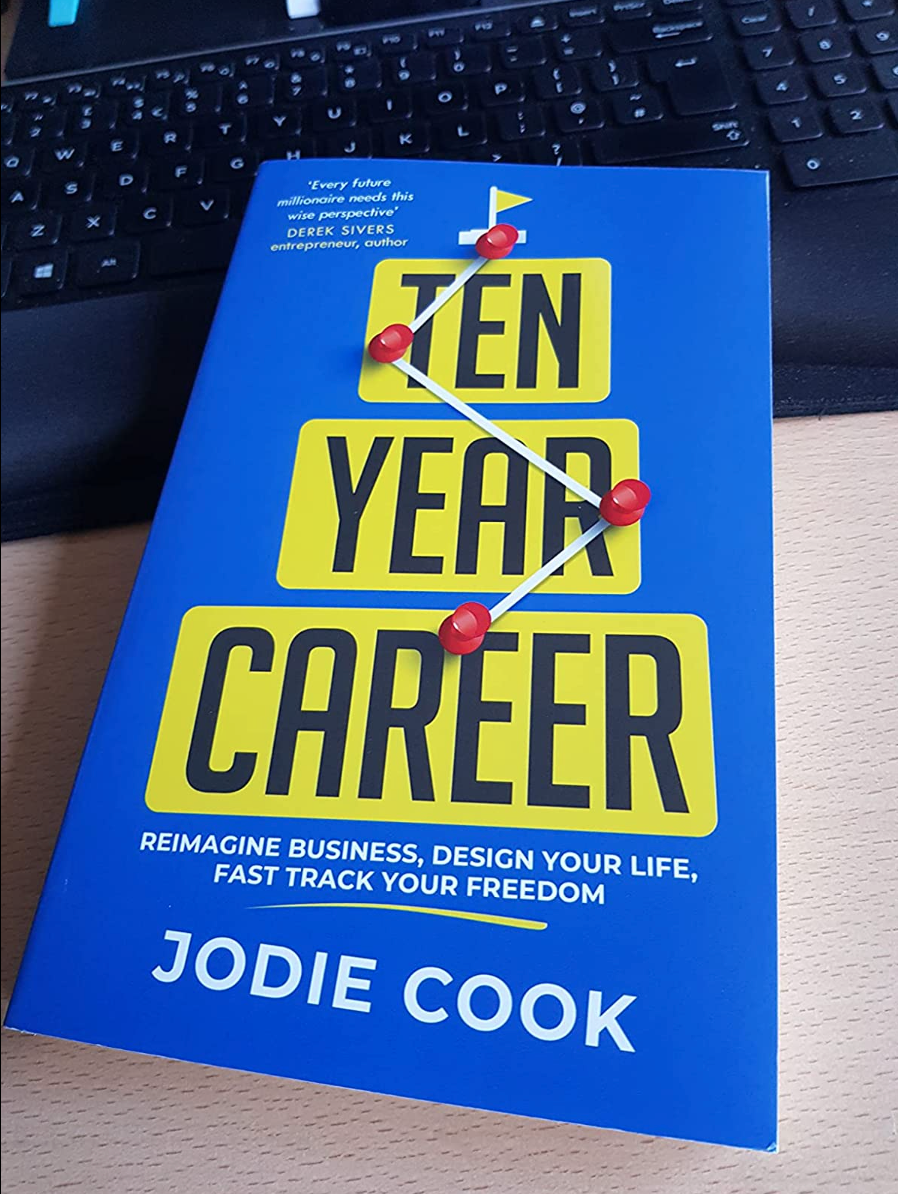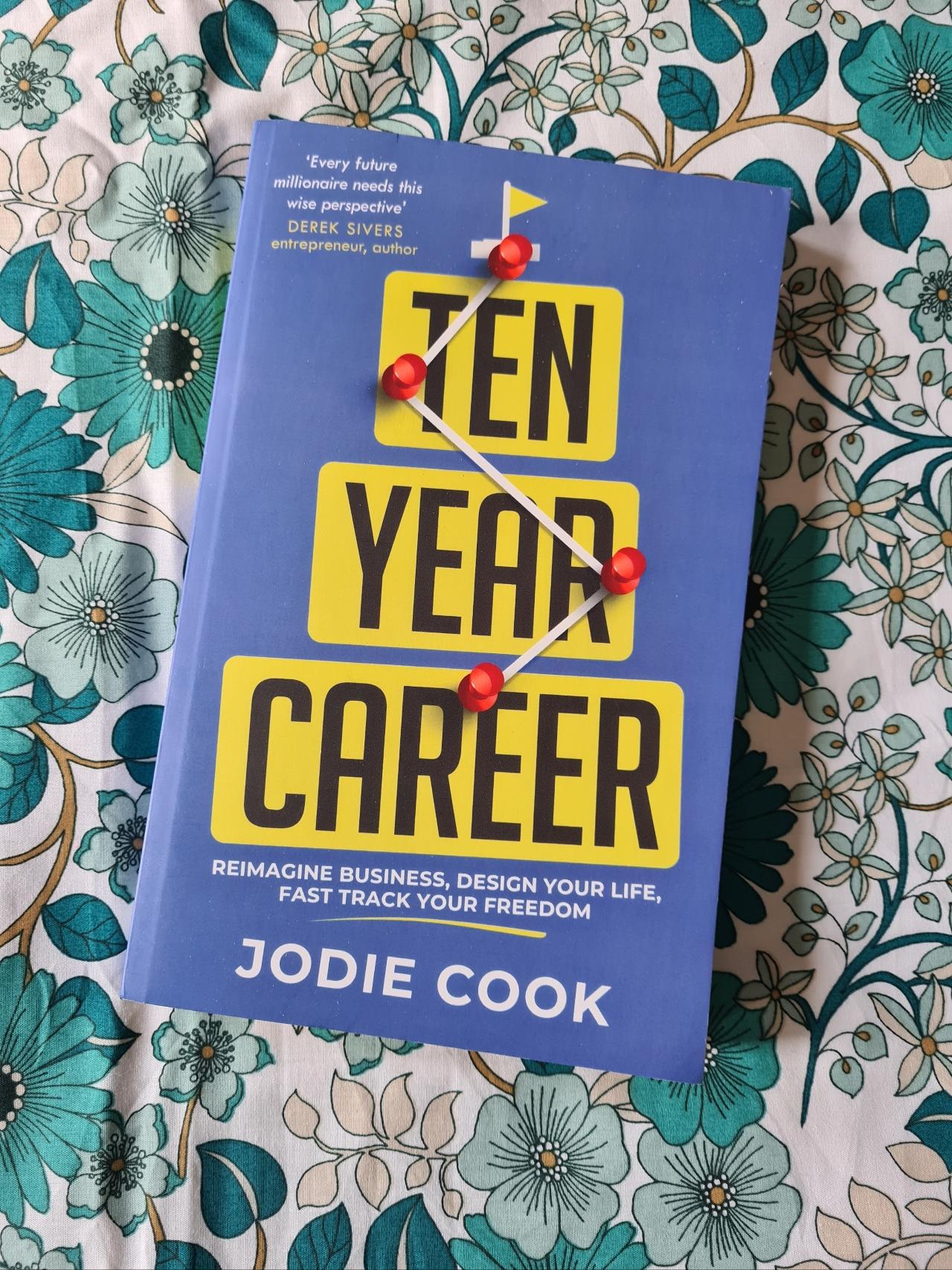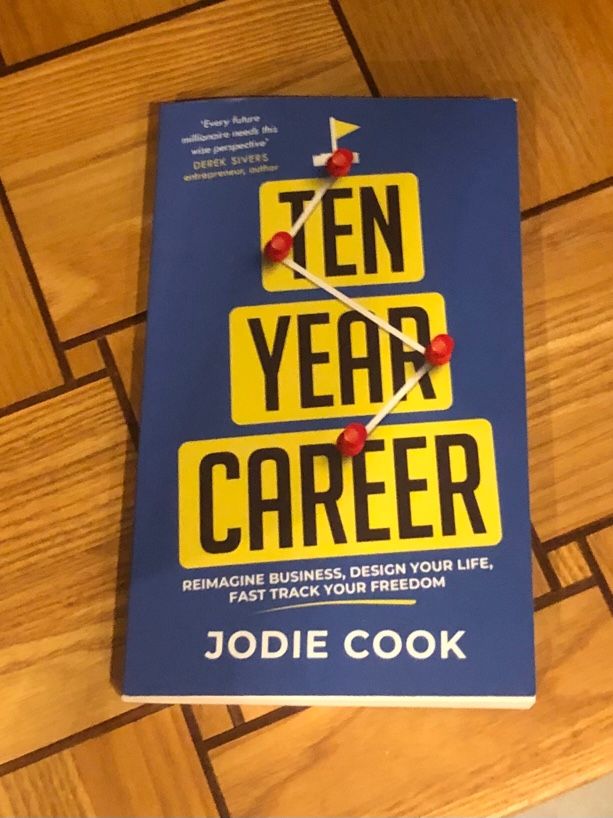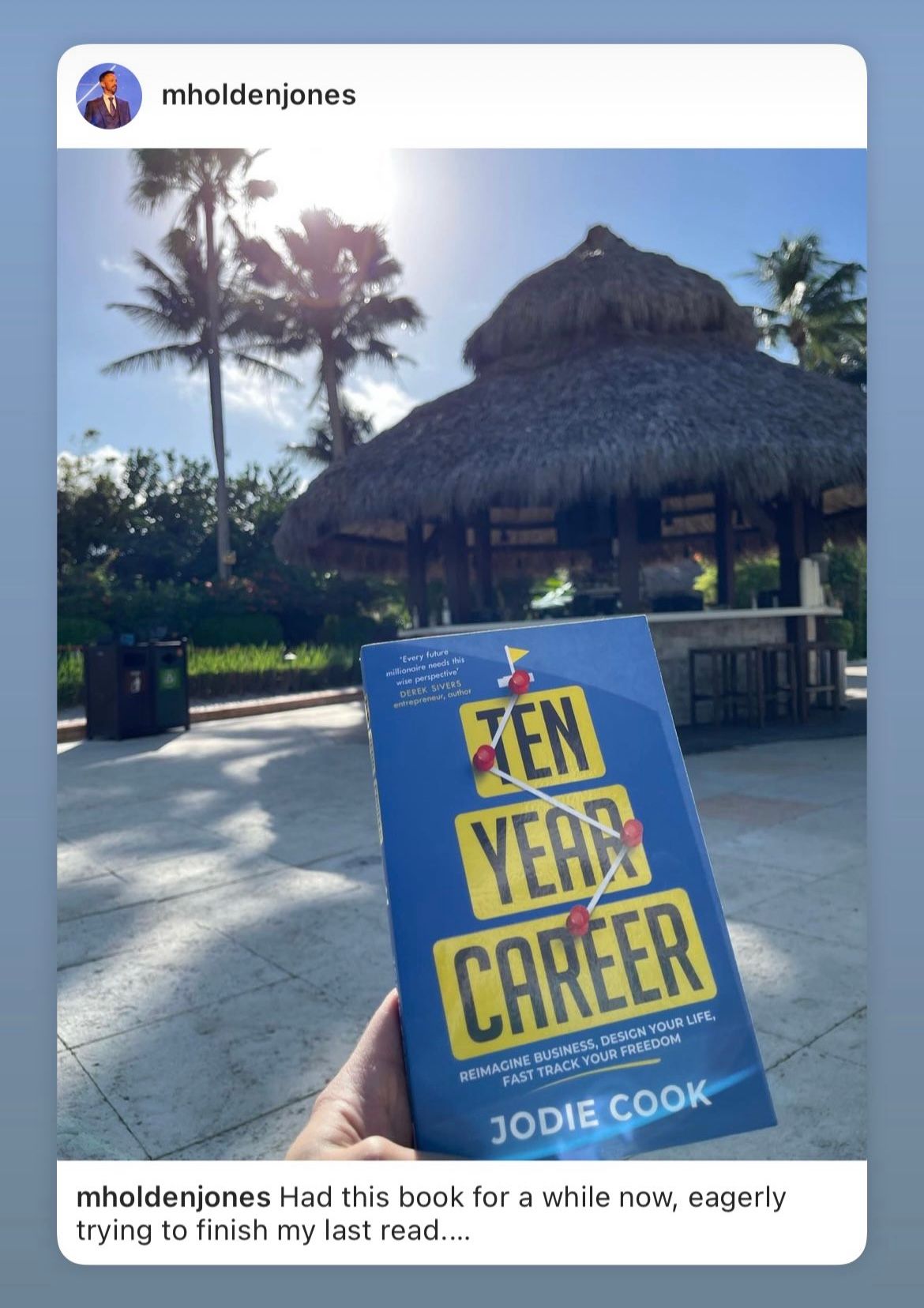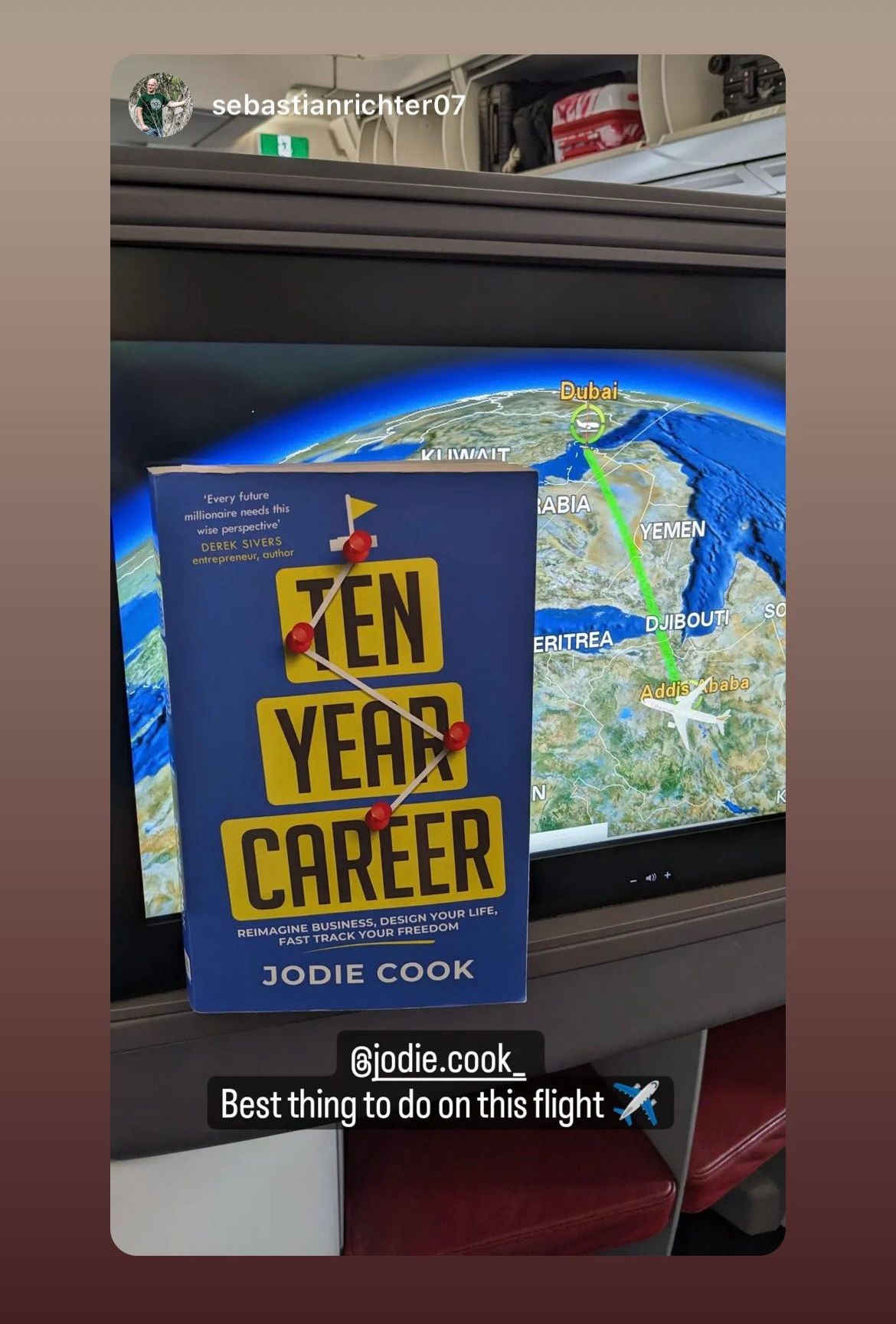 Get your copy in paperback, Kindle or audiobook.
---
Reviews of Ten Year Career:
This book is a great reminder to all that you can have total freedom as a business owner, much quicker than you ever believe. All developed from Jodie's own experiences, this book is easy to read and you won't want to put it down!
~ Richard Hunter Rice
There are few business books that have triggered the level of interest, motivation and drive as Ten Year Career.
Jodie writes from a relatable and practical viewpoint enabling readers to identify and implement actions within their own business for each stage of the process.
I have been pleasantly surprised at how much was already in place and this book has been instrumental in bringing it all together.
I've gifted copies of the book to family, friends and clients alike and can only imagine where I'd be if I'd applied these insights at the beginning of my entrepreneurial journey.
An absolute must read regardless of how long you've been in business.
~ Alison Delaney
The most actionable, relatable business book I've read.
I bought this book after listening to Jodie guest star on the She Means Business podcast hosted by Carrie Green. I resonated with the way she spoke about business right away and decided the book would be a good purchase. I listened to the audio book in under 4 days and came away with so much clarity on my business direction.
This no fluff book highlights what you need to do in business and breaks down typically cliche concepts into actionable business tips and advice.
I'm listening to the book again with a notebook handy to jot down any bits of wisdom I missed and I'm sure I'll listen many more times as I progress through my 10 year career.
The book comes with a companion course which really helps dive deeper into the concepts discussed and apply it to your own business/life.
~ Holly Herd
I've been a fan of Jodie since I received some of her training on the Dent Start-up Accelerator and her book is an essential read for entrepreneurs. She has experienced starting, running, and going on to sell her own business so who better to learn from? Highly recommended reading.
~ Scott Fulton
A must read for all entrepreneurs!
This isn't any ordinary business book, Ten Year Career is a book written by someone with a proven track record who has been there, done that and more importantly, can show us the way forward. Forget the advice dished out by so called entrepreneurs, take Jodie's lead and follow her road map to fast track your freedom and success. Jam packed with practical tips and tools as well as challenging questions to focus your attention on what really matters, this book has the potential to radically transform the way you see yourself and your business.
~ Mark Leruste
Jodie is an inspiration and this book is the ultimate blueprint for any business owner.
Jodie has created a book, complimented by a companion course that gives so much value. We are lucky as readers to be given such an honest account of not only what it's like to start, grow and sell a business but how we can do this ourselves.
I love that every step of the way, the book is something you can turn to for advice, it pushes and inspires you to keep going, it pushes and inspires you to know that you are on the right path and it pushes and inspires you to never give up and to never settle for something that isn't what you want.
This book doesn't just inspire me to be an amazing business owner, it inspires me to be the best person that I can be. When you read this book you feel like Jodie is your personal business coach and that she is with you every step of the way wanting the best for you.
I cannot recommend this book highly enough. Thank you Jodie
~ Kelly Rayduta
Gets you thinking. This book is a must read for anyone wanting to take reins of their lives and career as a whole, those with an entrepreneurial mindset, those who have had a business idea or working within a business they want to get clear on where they possibly are in their scaling/saleability journey... then this is the book for you... really got me thinking about my business and loved the lessons learned peppered throughout.
~ Abby Dixon
Firstly, super easy to read. Jodie has a lovely style of writing that you fly through the pages really smoothly. The book is great for mindset and preps you nicely to set your business up for success. I've actually found some of the things Jodie talks about are already in place in my business and I've been doing some really positive things whilst on auto-pilot! The book has impacted me in many ways but I'm now planning ahead, systemising and automising as much as possible and setting goals so that I'm ready for a big few years ahead. Thanks for sharing Jodie - loved the book and I am using it as a manual now; dipping back in while I'm working!
~ Gareth Robertson
An inspiring, honest, practical read that i couldn't put down! The ten year career was a completely new perspective for me, Jodie did an excellent job of breaking it down and making it seem so attainable, wherever you are in your life.
Using examples from her own life and career, Jodie shares how you really can live life on your own terms by following her clear and practical steps.
I'd highly recommend this for anyone who feels a bit stuck and looking for inspiration to make positive changes in their life - a fantastic read!
~ Aine Gallagher
Starting your own business and building life on your own terms has never been a more accessible reality to us all than it is today. But, unless you're very lucky, you're going to need a lot more than just a dream to build a life via business on your own terms. If you're like me, or a large percentage of many other startup/business owners you'll know this lesson well.
This book is your best friend for fast tracking your business and life to what you always intended it to be. Jodie provides the tips, guidance and tools you need to emulate her awe inspiring success.
What I particularly love about this book is how much Jodie focuses on the mindset and the common pitfalls business owners fall into - you'll often feel like she's written the book directly for you - but then quickly motivates you with exactly what to do about it.
Essential reading for any aspiring or current business owner - one of my favourite business books out there. Thank you for taking your time to share your experiences and insights Jodie - this book is a gift.
~ Mike Jones
With every chapter, you start to think differently.
This book offers the path to ultimate freedom. It's delivered through valuable and detailed insights of her own entrepreneurial journey, during which limiting beliefs and norms were challenged and rejected at every single step along the way. There are no rules, at least not in the way we're (constantly) fed to believe.
The story in itself is both insanely inspiring and entertaining. The lessons you get with it though - life changing. It cuts through the noise and BS and instead gives clarity. You get expert advice, given by a powerhouse entrepreneur who accepts nothing less than exceptional, all while living life on her terms and doing whatever she wants. After reading this book, these will be only the standards you accept for yourself, too. It makes you want more, aim higher and stop accepting mediocrity.
Whatever stage you're at in your business, 10 Year Career has the answers you need to make your career way more of a success, way sooner. And you'll start to get crystal clear on who you are in the process.
READ IT.
~ Emilia Stewart
Jodie is a legend. See TedX. The smartest, most thought out view of the world and your noggin. The book is supported by webinar and video content. Jodie has the t-shirt, listen to Built To Sell Radio episode 292. Tim Ferriss, Les Brown and Professor Steve Peter's all in one. The book give you a new paradigm on success. You can live your dreams, live a 4 hour work week and be happy productive and purposeful. Read it today.
~ Ricke Williams
Jodie puts the Entre in Entrepreneur in this starter for ten that will see your set free before eleven. Main course? No thank you, I'm already full.
Jodie takes the principles of the four hour work week one step further; drawing a hard limit on how long you should expect to take to exit the rat race. Fed up of being a rat? It's time to level up and evolve into a happier better you. Read the book, you won't regret it.
~ Andrew Ward
In the post-COVID, work from home era, many people are reviewing their priorities for work, life and their combination. This charming book, written from the heart, uses the author's experience for both entrepreneurship and powerlifting to show how you can re-purpose your life. Highly recommended!
~ Mike Southon
Jodie has packed this book full of value. It's easy to read, very engaging and extremely informative. It's already had a positive impact on my business. I highly recommend it.
~ James Church
Shakes up paradigms and common perceptions about starting a business!
The biggest lesson I take with me is how it shakes up paradigms; The stereotypical way people talk about entrepreneurship VS reality- A refreshing perspective.
She gives tactical advice along with stories from her life and observations of other successful entrepreneurs using vivid language that makes it easy to imagine what this could look like for you.
There's no BS in this book, yet playfully written with energy and enthusiasm = rare combo! What I liked the most about your 10 year career? How it starts with you!
You needing to be brutally honest with who you are, where you are, and how you think! Asking questions such as what the best version of you looks like and making a commitment to become it. The book gives you direction on how to define this for yourself followed by guidance on how this can be monetized and reach an audience. It challenged my thinking!
Above all, if you want your exit and work for yourself, you need to look at your beliefs about yourself, the world, and business. There is NO spoon!
~ Ellisif Katrine Bendiksen
Insight, impact and inspiration. Shared in a way where everything feels incredibly attainable! This is the third book I've read written by Jodie and wow - they just keep getting better and better.
I particularly love the new inspiring yet seemingly feel attainable perspective in Ten Year Career. It feels like a view of the working world I always hoped existed but feels somewhat detached from reality in other similar books.
Jodie does an excellent job of using her own lived experiences as proof of this alternative view and pulls in so many insights and direction from other amazing places.
I really think everyone should read this no matter where they are in their career 🙌
~ Mike Bandar
Brilliant! Every business owner, big or small, needs a copy! Finally, a business book that's an enjoyable and uplifting read!
Not only valuable to my own small business with so many golden nuggets of advice but it feels so applicable to a huge range of business sizes! Thoughtful and insightful with tangible business planning, talked about in manageable chunks. There's no excuse for anyone to not be in a better place than when they picked the book up.
Many years ago I worked for an exec team who would frequently have strategy days about aspirations and exit strategies and no-one knew which questions to ask - they all needed a copy of this!
~ Kimberley Bayliss
This book changed the way I ran my business. Jodie offers knowledge bomb after knowledge bomb in Ten Year Career. From relatable anecdotes to real world strategy, this book is a must read for any one who owns a business.
~ Lydia Papaphilippopoulos