If you're looking to sell your marketing agency, you have come to the right place.
After starting from scratch and running my social media agency for ten years, I sold it in March 2021 and left two weeks later.
I ran my agency but it didn't run me:
I worked from other countries for three months of every year.
I wrote books and had other interests.
I developed a self-sufficient team, robust processes and a strong client base
I avoided the headaches and overworking most agency owners struggle with.
Most agencies sell for 3-6 times their yearly profit and most agency owners have to work in their agency for 3-5 years after the sale completes. My agency sold for a higher multiple than the average and my handover took just two weeks.
I'm no superhero, this is very possible for other agency owners like you.
I learned so much from the process of preparing my agency for sale and meeting with twelve potential buyers. Knowing what to expect and laying the groundwork in advance meant achieving the perfect sale, for me, my team and clients.
I'm ready to pass this knowledge on, so you can achieve your perfect sale too.
The course covers:
how to prepare your agency for sale
how to shortlist and approach potential buyers
the pros and cons of using a broker
how to handle meetings with buyers and negotiations
The course is designed to help you secure your dream sale.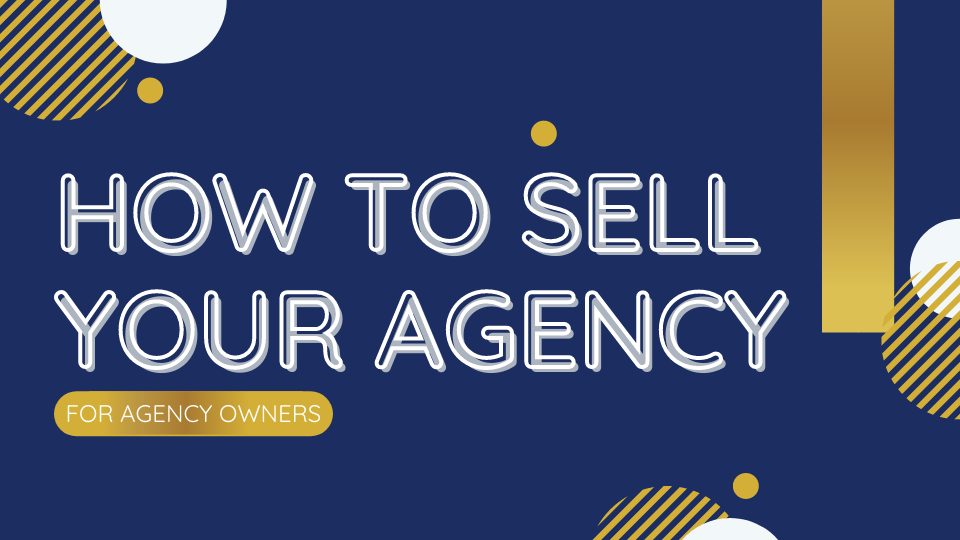 ⭐⭐⭐⭐⭐
I've heard Jodie speak on this topic in conferences and podcasts, and couldn't wait to dive into the details via her course. She doesn't disappoint! So many to-do's and so much motivation.
Megan, agency owner
⭐⭐⭐⭐⭐
Jodie has provided excellent tips and resources for selling an agency. The course provides me with confidence and clarity on structuring our business, meeting potential acquirers, and getting through the sale.
Marco, agency owner
---
In March 2021, acting for an investor, I acquired Jodie's business. Throughout the deal process she was a pleasure to deal with; a clear communicator; fun and above all, a shrewd negotiator. She built a fantastic business that performs to the model she developed.
It is a privilege for me to now have her as a shareholder in our combined business and I turn to her often for advice. I am certain all her future endeavours would be successful and I would recommend her to anyone.
The buyer of my agency
Jodie is a talented, determined individual who is a joy to work with. She is someone you can trust to always deliver and act with integrity. She has the creative vision, as well as the planning and organisational skills, plus heaps of motivation, to see projects through from concept to completion.
She's a great communicator and leader and is committed to continually learning and developing herself and others. This enables her to effectively bring together a team and take others on the journey with her.
My agency's head of client services